Guide for Levy Paying Employers
The apprentices we are training need to be added to your Apprenticeship Service account and linked to our Training Provider Service. This ensures the funds are correctly paid to us from your Levy account.
We cannot start your apprentice's training until you have approved them on the Apprenticeship service.
Once we have agreed a training plan, including length of apprenticeship, for your apprentice you will need to log into your account and request we complete your apprentice's details. Once we have done this you will need to approve it.
Adding you apprentices is a simple process and we have provided a walk through below.
If you would like more detail on how to use your Digital apprenticeship service. A demonstration by the SFA is available on Youtube. https://www.youtube.com/watch?v=XDYEtj16E38
1. Log into your apprenticeship service and select "Apprentices" from the home screen 
2. Click "Add a new apprentice" and then "Start"
From here you can add apprentices individually, or if you have several starting at once with us they can all be added as one cohort.
3. Select where the Apprentice works.
You may have several options if you have linked organisations. You must select the organisation which the apprentice's PAYE is paid through.
4. Who should add apprentices?
One this screen select that you would like the provider to add the apprentices. We will be able to
complete their details, including their Unique Learner Number.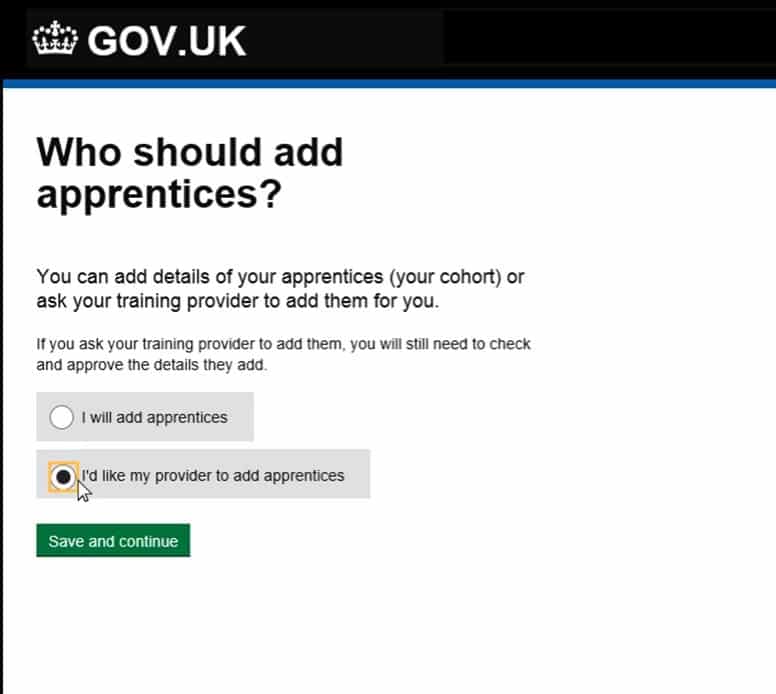 5. Select us as your training provider
Search using our UKPRN 10042735
On the results page select Accountancy Learning and continue.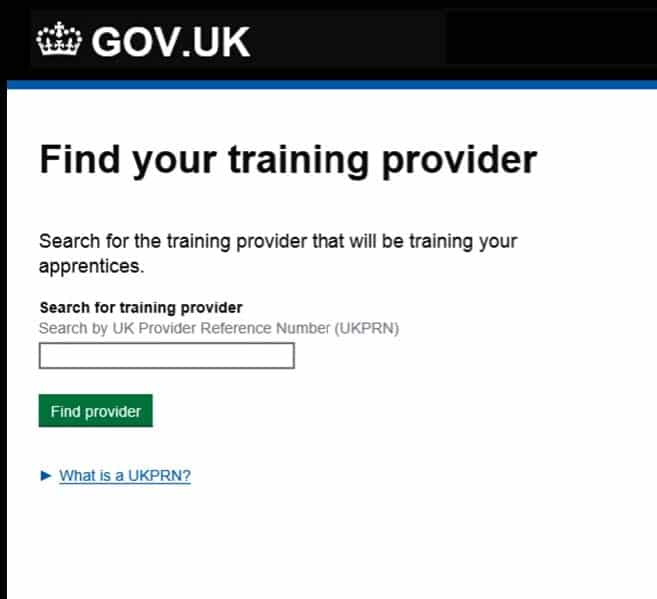 6. Send the request to us to complete the apprentice's details
This page will send the request to us to complete the details of your apprentices. 
In the email box please enter [email protected]. This ensure we are emailed a copy of your request so we can complete it straight away. 
The notes section is optional but you may wish to enter the names of the apprentices we have agreed will start, or anything else you would like us to be aware of. 
Once we have received your request, we will add your apprentice's details and return the commitment to you for approval. 
You must approve these details before training can start. 
7. Approve Apprentice Commitment
When we send the commitment back to you, you will need to access Update and Authorise Commitments. 
Click on Accountancy Learning to access the information we have added. 
Please check all the apprentice details are correct, if there are any errors please amend them. Once you are happy with the information, press "Finished Editing"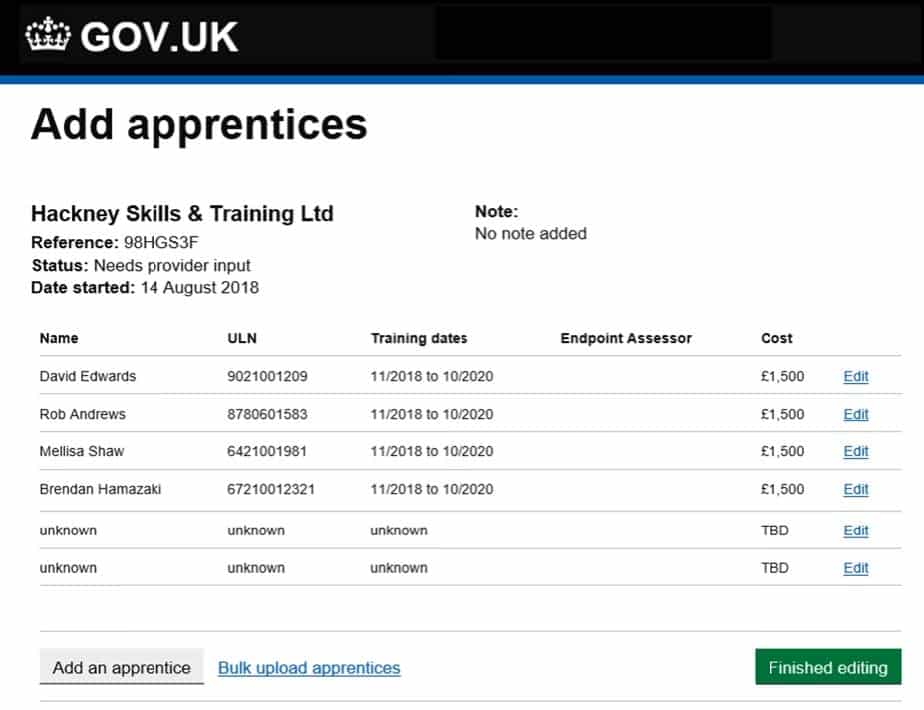 If you would like us to change any further information, select "Send to provider to amend or add details". If you are happy with the details, select "Approve and send to provider". 
Please note that final responsibility of the accuracy of this information lies with you, the employer. The new employer led funding system means we cannot start training until all details have been approved by you. Once approved, we will send monthly updates on the apprentice's learning to the ESFA which triggers the release of funding.