ACA Training with
Accountancy Learning
Accountancy Learning has been making an impact on the lives of accounting students and their employers for many years and has a strong reputation for the high level of proactive support given and impartial advice provided. Some of us have been acting for our clients in one form or another since 1984.
We've been delivering AAT training since 1992 and in 2009 started to offer ACA training in order to meet the needs of those of our South West employers who wanted their AAT trainees to progress to ACA.  As well as maintaining the personal support they had got used to, our programme avoided the need to travel long distances and staying away for courses, thus saving both time and cost. 
The Accountancy Learning team includes a number of Chartered Accountants, active in the SW District Society, and we wanted to make the ACA qualification more accessible to those living and working in the South West. We have sponsored the District Society Award for the student achieving top marks in each sitting of the Advanced Level Case Study for umpteen years.
As part of our overall training provision in the South West, we have always offered advice and guidance to our employer clients on all aspects of qualification training, whether we provide the training or not. We are therefore able to add value to the ACA training we provide and help our trainees relate their studies to the work they undertake in the office.
These pages set out a summary of the ACA qualification and our ACA training / apprenticeship programme. However, there is a lot involved and it would be great to have the chance to discuss your specific requirements in more detail. Do let us know if you would like a call.
Overview of the ACA qualification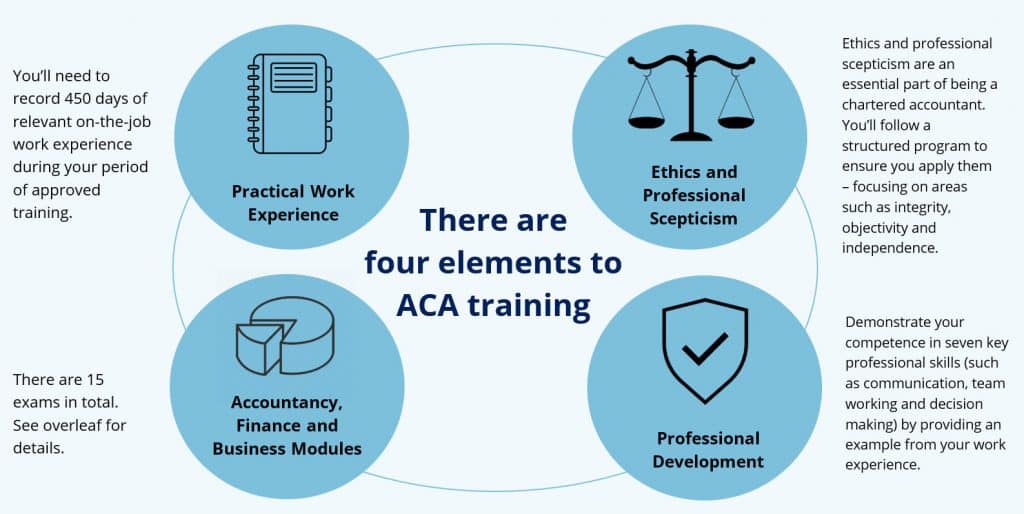 Taught and Revision Sessions in Exeter
Since lockdown and as a result of the ongoing requirement for social distancing measures, these sessions are being run remotely via the video function of MS Teams.
This has provided two benefits:
We have been able to split our teaching sessions into discrete half day sessions, making the learning more easily digestible and
The use of Teams has allowed the sessions to be recorded so that students can refer back to them for reinforcement and revision.
Experienced Tutors Teaching Professional and Advanced levels
If there is a demand for it, we are keen to offer the option of undertaking the ACA CTA Joint Programme. In essence the swaps the Business Planning: Taxation unit from the ACA Professional Level with the CTA Taxation of Owner Managed Business and then, subsequent to completing the ACA qualification, completing two further CTA papers.
If you are interested in this option, please let us know so we can discuss it with you in more detail.
For more information about our ACA courses, please click below:
Embarking on ACA training is a big investment decision. With 95% Apprenticeship funding, the investment is now more about the time involved rather than the direct cost.
(The government has recently indicated that they might increase this funding to 100% in order to help stimulate the economy)
Before making your decision, we would be keen to visit you to discuss your requirements in more detail along with the options available. During the current social distancing restrictions, these "visits" can be performed on line via MS Teams or Zoom, or simply over the phone.