Assistant Accountant
(Level 3 Apprenticeship)
Who Is This
Suitable
For?
The Assistant Accountant Apprenticeship is the starting point for any staff who have little or no experience in accounting, including school leavers.  Introductory Bookkeeping training can be incorporated into the Level 3 Apprenticeship if required – please ask us about this.
The Apprenticeship
Structure
We would not generally advise students with no experience to start their AAT studies at the Level 3, so we can incorporate all or part of the AAT Foundation Level, or other induction training, as part of this Apprenticeship. For the Assistant Accountant Apprenticeship, students will sit the AAT Advanced Diploma in Accounting Synoptic paper as part of the End Point Assessment.
As part of the apprenticeship training, we can include any or all of the following:
The assessment of the Apprenticeship is by an End Point Assessment (EPA) that comprises:
Preparation for the
Synoptic exam
In order to successfully complete the Synoptic exam, apprentices need to have a thorough understanding of the underpinning knowledge and this will normally be achieved by completion of the full Level 3 Advanced Diploma in Accounting. This includes the following units.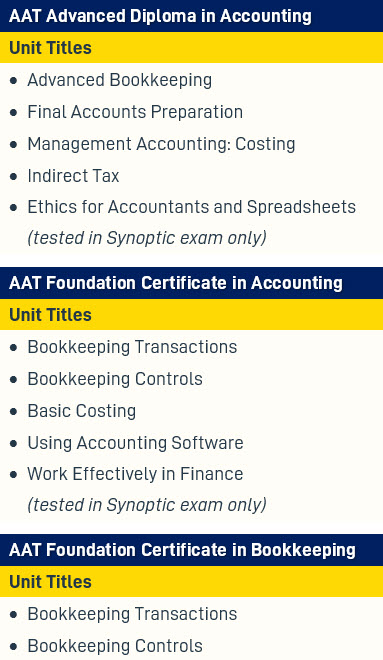 An apprenticeship must last at least 372 days and this fits in well with our normal timescales for the completion of the Advanced Diploma.
If the apprentice works less than 30 hours a week, the duration of the apprenticeship will need to be increased pro-rata.
If the prospective apprentice has no prior experience or knowledge in accounting or an accounting environment, they will probably need to complete the full Level 2 Foundation Certificate in Accounting in order to provide the necessary underpinning knowledge to undertake the Level 3 units.
However, many of our apprentices simply need to achieve a better grounding in double entry bookkeeping – in which case they would only add the two units from the Level 2
60% of the End Point Assessment will relate to a "Professional Discussion" performed by an AAT Assessor. This will be based on a work experience portfolio and associated reflective journals, recognising the high level of learning being undertaken at work. We will provide support throughout the apprenticeship on building this up:

In order to support this discussion, apprentices will be required to prepare a Portfolio during their apprenticeship. This will consist of a series of Journals, reflecting on the development of these "significantly new skills and behaviours" and application of the related knowledge over the apprenticeship. These journals will be cross referenced to the detailed learning outcomes.
The Portfolio will also contain examples of the work being described in the Reflective Journals, suitably redacted, and to which they can be cross referenced.