ACA Training with Accountancy Learning
Accountancy Learning has been making an impact on the lives of accounting students and their employers for many years and has a strong reputation for the high level of proactive support given and impartial advice provided. Some of us have been acting for our clients in one form or another since 1984. Many of our original students are still clients as they are now employers in their own right.
We've been delivering AAT training since 1992 and in 2009 started to offer ACA training in order to meet the needs of those of our students who wanted to progress to ACA but wanted to maintain the level of personal support they had got used to. Our programme importantly avoided the need for them to travel long distances and stay away for courses. One of our goals was to make the ACA qualification more accessible to those living and working in the South West.
This page sets out a summary of the ACA qualification and our ACA training / apprenticeship programme. However, there is a lot involved and it would be great to have the chance to discuss your specific requirements in more detail. Do let us know if you would like us to call you and/or your employer.
Overview of the
ACA qualification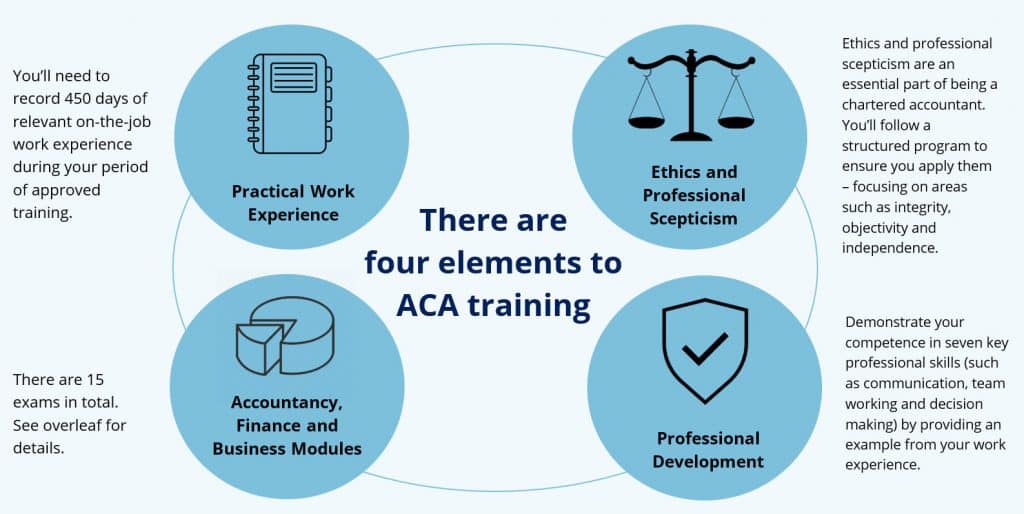 Taught and Revision Sessions in Exeter
Since lockdown and as a result of the ongoing requirement for social distancing measures, these sessions are being run remotely via the video function of MS Teams.
This has provided two benefits:
Experienced Tutors Teaching Professional and Advanced levels
Personal tutors offering unlimited support
For more information about our ACA courses, please click below:
Embarking on ACA training is a big investment decision. With 95% Apprenticeship funding, the investment is now more about the time involved rather than the direct cost.
Before making this decision, we would be keen to visit you to discuss your requirements in more detail along with the options available.