Accounting Apprenticeships are bouncing back!
Not surprisingly, the COVID-19 pandemic has had a direct hit on apprenticeships across all disciplines. However, following an initial reduction in activity during the first half of 2020, at Accountancy Learning we are excited to say that our accounting apprenticeships are bouncing back!
The key issues facing the employment and training of apprentices in the first half of 2020 were:
Uncertainty as to how deep/bad/long the Covid-19 pandemic was going to last, causing businesses and organisations to put a hold on their current or short-term recruitment plans.
Lack of staff in the office to supervise new apprentices, because a lot of people were either furloughed or working from home.
A perception that apprenticeship training could only be carried out in a face-to-face environment.
The regional and national picture
The Heart of the South West LEP in their recent Employment and Skills review showed how the number of apprenticeship starts had fallen in the second quarter of 2020/21, when compared to the same quarter in 2019/20 and also compared this to the numbers for England as a whole: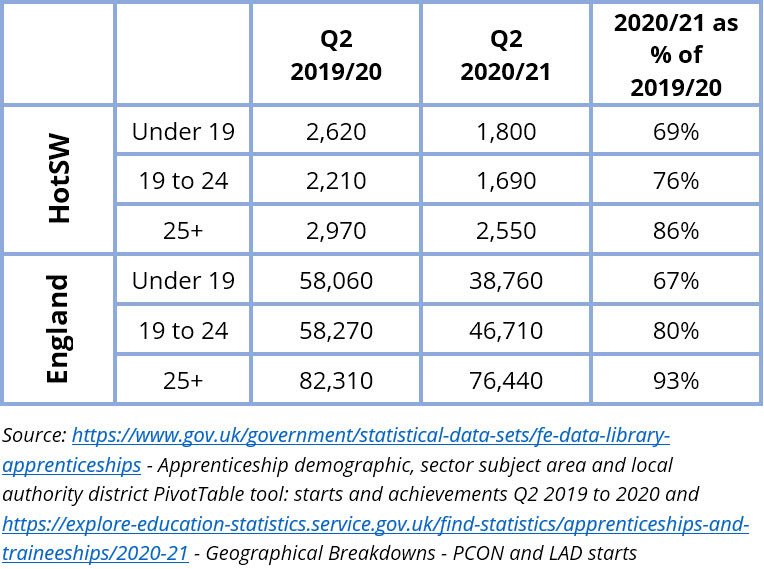 Reversing the trend with Accountancy Learning
Accountancy Learning experienced similar decreases in the number of accounting apprenticeships starts during the first few months of the initial lockdown. However, we were quick to demonstrate how we could work closely with employers to help recruit quality accounting apprentices and train them using our remote learning and training support systems.
Our Apprenticeship Talent Programme has been a game changer in helping accountancy firms or accounting departments to find and recruit top quality accounting apprentices. The Talent Programme works in two ways:
To help businesses to advertise, recruit and employ good quality candidates, for free*, whilst also helping them to access up to £4,000 in wage subsidies for each new employee they hire and enrol onto an accounting apprenticeship.
To help budding accountants to see if a career in accountancy is right for them, whilst matching their skills and personalities with suitable businesses who are looking to employ an accounting apprentice.
*We do not charge for this service, providing employers place their apprentice with us for their training.
As a result, the number of our apprenticeship learners has increased by 33% from April 2020 to April 2021. Our wider range of accounting apprenticeships has also generated more interest from accounting departments in industry, as well as accountancy practices. For example, since September 2020, 30% of our new apprentice starts have been on the Level 2 Accounts/Finance Assistant Apprenticeship, with many placements being made within industry.
We also have 12% of our apprentices currently studying for the Level 7 ACA Apprenticeship, most of whom are working within accountancy practices.
Many of our recent apprenticeship employers or apprentices have benefited from our Talent Programme. To find out more about it, click here.
Funding initiatives
In an attempt to reduce unemployment caused by the pandemic and to re-skill or up-skill those out of work, the Government has brought in a series of funding initiatives to help 'kick start' the economy. The main scheme to affect apprenticeships is the new apprentice incentive.
Prior to the pandemic, employers could claim £1,000 for each new employee they hired and enrolled onto an apprenticeship, providing they were aged between 16-18 years old.
In his Summer Statement last year, the Chancellor announced a new wage subsidy for apprentices recruited between 1 August 2020 and 31 January 2021. Employers would receive £2,000 for each apprentice they employed between the ages of 16-24 and £1,500 for apprentices aged 25 or over. Plus, they would continue to receive the £1,000 for apprentices aged between 16-18 years.  This scheme was then extended until 31 March 2021.
However, in his 2021 Spring Budget, the Chancellor further enhanced the scheme, allowing employers to recruit and enrol a new apprentice of any age and they would receive a £3,000 incentive, providing they did so by 30 September 2021. The £1,000 for apprentices aged between 16-18 years is also still available.
Whilst the introduction of these new apprentice incentives has not been the sole reason an employer takes on an apprentice, it has helped to get their recruitment decisions across the line or has brought forward their recruitment plans.
Tuning into remote learning
As a training provider of both distance learning accounting courses and accounting apprenticeships, our students are spread across a vast area. As a result, for many years before the pandemic we were already using cutting edge technology to deliver our training and support remotely.
When the first lockdown was announced in March 2020, it was a very straightforward process for us to roll out our remote learning training to all of our students. Using Moodle as our LMS (Learning Management System) for our on-line interactive learning materials, Microsoft Teams as our tutor support platform and Bud as our Apprenticeship Management Platform, we have been able to maintain our high level of training and contact time, even if the students have been furloughed or working from home.
Not only has this been a big boost for our apprentices, who have been able to continue with their studies throughout all the lockdowns and regional tiers, we have also been able to enhance their training further by getting them to complete our bookkeeping induction course, The Balancing Act.
This is a self study course which uses a blend of online and offline learning, the latter being achieved through the use of comprehensive printed workbooks.  The bookkeeping course has been designed to be studied as part of an employee's induction or very early on in their employment and aims to have successful students preparing a set of final accounts in less than a week. Consequently, we have a lot of firms using this course to get their trainees up to speed more quickly and therefore chargeable, without requiring lots of face-to-face supervision.
You can find out more about The Balancing Act here.
Conclusion
While the national picture for apprenticeships can look downbeat, we can assure you that is not the case for accounting apprenticeships at Accountancy Learning. Over the past 18 months we have proved that there is a willingness to recruit and train new accounting staff.
Furthermore, Accountancy Learning's approach to recruitment, training and helping firms to access funding has had a significant positive impact on the number of apprentices we have enrolled and are continuing to do so.
With the New Apprentice Incentive funding deadline fast approaching, employers are encouraged to start the recruitment process now. This will make sure you have a good quality candidate employed and enrolled onto an apprenticeship by the end of September.
If Accountancy Learning can be of assistance with your accounting apprenticeships recruitment and/or training, do get in touch. We would be happy to speak with you, on a no obligation basis, to find out what your current processes are and how we may be able help you recruit the right candidates and to train and develop them. Please call Paul Hollis, our Business Development Manager, on 01392 311925 or email [email protected] to find out more.