Professional Accountant
(Level 4 Apprenticeship)
Who is this
suitable
for?
The Professional Accounting Apprenticeship would be suitable for anyone progressing from the Assistant Accountant Apprenticeship, or anyone who already holds an AAT Level 3 Qualification or equivalent. It may also be relevant to those with extensive practical experience but no formal accounting qualifications.
The assessment of the Professional Accountant Apprenticeship (Level 4) is by an End Point Assessment (EPA) that comprises:
Preparation for the
Synoptic Exam
In order to successfully complete the Synoptic exam, apprentices need to have a thorough understanding of the underpinning knowledge and this will normally be achieved by completion of the Level 4 Professional Diploma in Accounting. This includes the following units.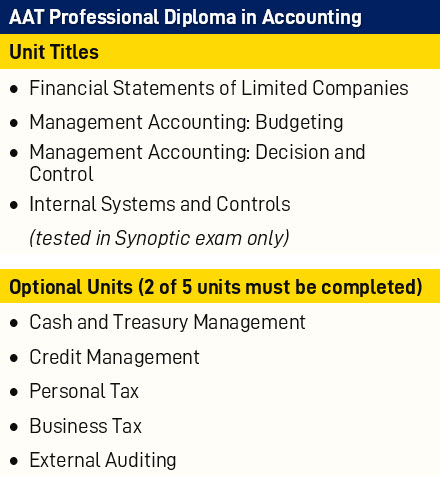 An apprenticeship must last at least 372 days and most learners will take at least this amount of time to complete the Professional Diploma in Accounting.
If the apprentice works less than 30 hours a week, the duration of the apprenticeship will need to be increased pro-rata.
The optional units (shown below) are not tested in the Synoptic exam but we would expect those optional subjects chosen to be undertaken at work and cross referenced in the portfolio (see below) to the Skills included in the Apprenticeship Standards.
Preparation for the
Professional
Discussion / Written Statement
As with Level 3, the Professional Discussion entails a one hour discussion but this time with two AAT Independent Assessors. This will normally be performed remotely via an on-line audio/video portal. As an alternative to the Professional Discussion, apprentices can elect to submit a Written Statement of between 2,000 to 3,000 words. These are not tests, they are methods of assessing how much practical experience and competence the apprentice can evidence over their apprenticeship and they cover the following Skills and Behaviours:

Unlike Level 3, it will not be graded, it will simply be a Pass or Fail.
In order to support this Professional Discussion / Written Statement, as with Level 3, apprentices will be required to prepare a Portfolio during their apprenticeship. This will consist of a series of Journals, reflecting on the development of these "significantly new skills and behaviours" and application of the related knowledge over the apprenticeship. These journals will be cross referenced to the detailed learning outcomes.
The Portfolio will also contain examples of the work being described in the Reflective Journals, suitably redacted, and to which they can be cross referenced.