Accounts/Finance Assistant
(Level 2 Apprenticeship)
Who Is This
Suitable
For?
The Level 2 Apprenticeship in Accounting is suitable for anyone with little or no prior experience in an accounts function. It is therefore a natural entry point for school leavers or for those currently working in a non-finance role or working in an accounts role with limited or no knowledge of double entry bookkeeping. An Apprenticeship is only eligible for funding if the apprentice will be acquiring significantly new skills during their apprenticeship.
The Apprenticeship
Structure
Unlike the Levels 3 and 4 Apprenticeships, the Level 2 Apprenticeship has a mandatory qualification element, which in our programme, will be the AAT Foundation Certificate in Accounting.
The assessment of the Apprenticeship is by an End Point Assessment (EPA) that comprises:
Preparation for the
In-tray Test
In order to successfully complete the In-tray Test (exam), apprentices need to have a thorough understanding of the underpinning knowledge and this will be acquired by completion of the AAT Level 2 Foundation Certificate in Accounting. This includes the following units: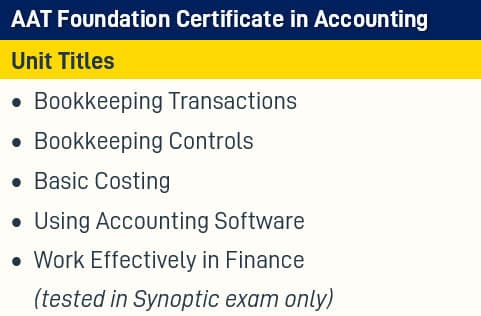 The In-tray test is computer based (online) and will last for 105 minutes.
An apprenticeship must last at least 372 days and this fits in well with our normal timescales for the completion of the Foundation Certificate in Accounting.
If the apprentice works less than 30 hours a week, the duration of the apprenticeship will need to be increased pro-rata.
Preparation for the
Structured Interview
The Structured Interview will consist of 10 questions and these will be asked by an AAT Independent Assessor. The interview must last for 60 minutes and will normally be performed remotely via an on-line audio/video portal. It is not a test; it is a method of assessing how much knowledge and practical experience the apprentice has gained over their apprenticeship. The interview covers the following Knowledge, Skills and Behaviours:

In order to support this interview, apprentices will be required to prepare a Portfolio during their apprenticeship. The portfolio must contain a minimum of four pieces of evidence, which could include:
20% Off
The Job Training
requirement (OTJT)
It is a government requirement that 20% of an apprentice's paid working time must be spent on off the job training (OTJT). Apprentices will need to maintain, and submit, a weekly log of OTJT so we can help you meet this requirement.